Posted by: Caz on Jun 17, 2010
Welcome to my blog on Total Art Soul! Here I'll be talking about certain artistic aspects of my online comic strip series, Callous! In this blog article, I'll be discussing the characteristic line work of the series, how it turned out that way, and the rich history of the style.
An artist perusing through my comics pointed out to me the similarities of my line work to ligne claire, a popular European style during the 1950's. I never really thought about my line style until that time, so I looked for a quick reference online regarding this new term. It turns out that ligne claire, literally, means "clear lines" in French. The style is characterized by the usage of equal line weight and thickness throughout the artwork and does not emphasize objects or distance by relying on different line thickness, shading, or cross-hatching.  Because of the equality of the pen and/or brush strokes, this technique was nicknamed "the democracy of lines".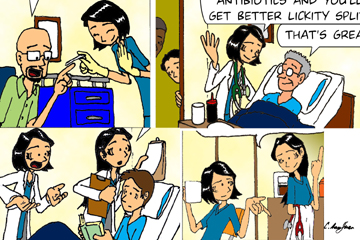 Most notable of those who used this technique back in the day was Herge of The Adventures of Tintin fame.  His intention was to get the story across as directly as he could.  So his writing, color choice, and line art were meant to do just that.
However, the appearance of this particular style of line art in Callous was borne out of necessity, not intent.
When I decided to publish these comics daily, I calculated its feasibility based on the premise that I could spare one to two hours working on one comic strip per day.  I usually pencil and ink a day's comic strip during lunch at work and scan, letter, and color it once I get home at night.  So when it comes to my line art, I restricted myself to using only one pencil and ink pen.  Hence, the equality of my lines.
My choice of colors may have been subconsciously influenced by Herge's work on Tintin.  Since I have to work on these comics quickly, I did away with any shading and used simple digital color fills to my art.  Colors are carefully chosen so that foreground, midground, and background remain distinct.
Much like Herge's Tintin, Callous was artistically designed to be efficient, to-the-point, yet visually attractive.  At least, that is my hope!
In the end, all I want to do is to get a story across as clear as I could.  Clarity is crucial in my comic work environment and so far it has paid off to draw with "clear lines".
You can check out the Callous comic strip at http://callouscomics.com
Comments
(0)
Subscribe to this comment's feed
Write comment
---